The winner of our holiday give-a-way was picked.
It was Jody aka BeachBabiesBum.

Winner has 24 hours to respond from my e-mail last night at 11 pm. Another winner will be picked if I do not get a response! Thank you to everyone who entered.
We also have some exciting news to share
TO ALL CRAFTY SEWING MAMAS!!!

We will be launching our fleece/knitted longie pants pattern for sale! For beginners and experienced. This is the easiest pattern to make your longies from even make them lounge pants for an older child! Sized from preemie to 6t! We have sewing testers still in progress to ensure great quality. Comes with visual aid and detailed instructions too!!!
sample tester we whipped

up!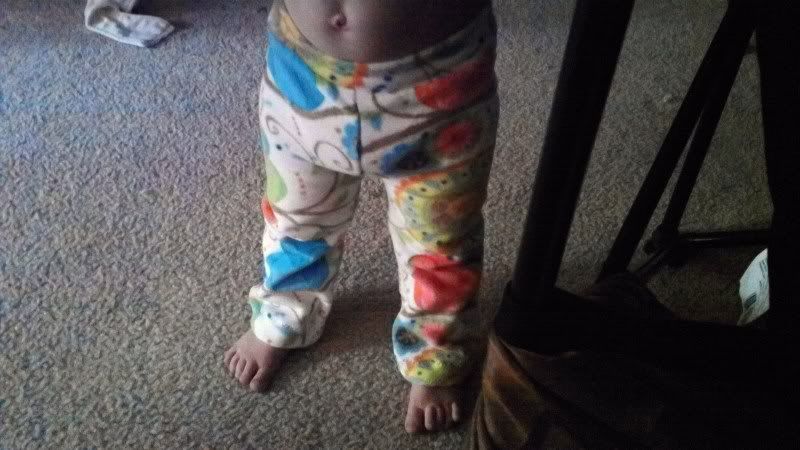 what are actual testers are saying so far:
"These fit him really well in the waist and rise. The legs ended up a bit long for him..easily adjusted though."
"I like the fit.
The only pattern for longies I have used before are the ones I have just winged it...yours are narrower in the legs, and my little monkey man seemed to be very comfy in them! "
"Got mine sewn! Really easy and fast!"
"Length was perfect for her. I wouldn't go any shorter. Plus, people can shorten if they want to on their own. Not over a diaper, as we are completely potty trained. But, these are adorable as pajama pants. We find it hard to get pajama bottoms that fit her. Especially the packaged ones, they are always too tight."
"Got it printed out, taped together and sewn all while dh was getting dd into bed, so I'd say in 30 minutes or less."
"It took less that 15 minutes to sew this up out of a tshirt (recycled hems!)"
"I have never made a pair of pants before.

I never knew it could be so easy. From taping the pattern together to finish (except the hem) took me 45 minutes. I don't think it would have taken as long if I knew what I was doing."
"Okay, I have sewn up the XS, which I was testing on my 8 week old. The pattern is terrific -- simple and a complete cinch to follow and sew from. I think I had these whipped up in about 15 minutes. I used an old sweatshirt.


First of all, aren't these the cutest little pants ever?! They look exactly like a baby version of my favourite yoga pants."